Tecan uses cookies to improve our website. By continuing to browse our website, you accept our cookie policy.
Assay development
Our team brings the assay development support you need to deliver reliable, robust research and diagnostic assays.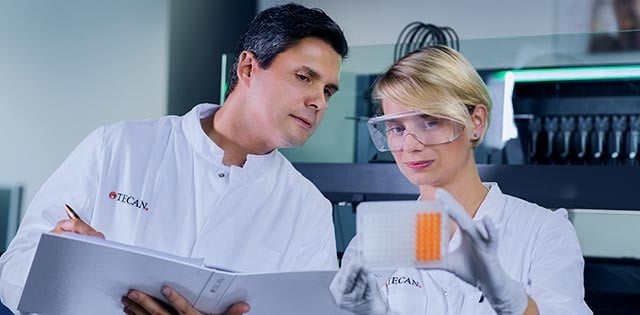 Tailored for your platform
When off-the-shelf assays don't give your customers the performance they need, our assay development team can help you develop assays that do.
Immunoassay expertise
When you need customized assays to enable your customers to get the most out of their investment in your platform, our Tecan assay development team brings exactly the expertise you need to complete your product solution. Our immunoassay and immunodiagnostics experts can develop assays based on enzymatic, radioactive, or luminescence detection methods.
Expertise specific for you
Our superior assay development knowledge spans a wide range of clinical and research discipines, including:
Endocrinology
Saliva diagnostics
Neurodegeneration and neurotransmitters
Infectious disease
Immunity and cytokines
Autoimmunity
Tumor markers
Food intolerance and allergy
Antibodies
When you need just the right assay for your automation or liquid handling platform, our Tecan Partnering assay development team can help you deliver it.
Find more: